Your shopping cart is empty!
CUSTOMIZE THE INVISIBLE DOOR LOCK REMOCK LOCKEY, SILVER COLOR (0, 1, 2 or 3 CONTROLS)
Brand:
REMOCK LOCKEY
Product Code:
REMOCK LOCKEY PERSONALIZABLE EN MANDOS
Price:
209.00€
Price with options x Qty:
209.00€
Ex Tax: 172.73€
Convenient installation
Tape adhesion method enables easy installation by anyone
No extra construction work including drill work is necessary for installation thus preventing damage to the door
Easy adhesion and take-off enables convenient use at any types of door
Can be reused when moving.(Can be used for various different purposes including porch at houses and inner sliding door at mansions, houses, and warehouses)
One-touch operation with remote control
Can use LOCKEY at multiple spots by using a single remote control
Easy to use with clear division of open/close
Can be used by all family members by registering 16 different remote controls
Can be used safely by inputting 260 million different codes
Battery exchange alarm function
When remaining battery level drops low, LED lights up to inform that a change is needed
When the battery level drops below certain level, close function stops to maximize device stability
Product specification

Method : ASK SINGLE CONVERSION
Operation temperature : -20°C~60°C
(condition without freezing and dew condensation)
Operation humidity : 5~80%
(condition without dew condensation)
How to use product

Slide open battery cover from the main body in(▼) direction and put in 2AA sized alkaline batteries
Firmly close battery cover at the main body
After installing device, always check whether the remote control is functioning properly with a person at the inside part of the door(Check respectively at both sides of the doors).
-Transmission distance from the remote control
-Best location for frequency transmission and receipt
-Adjust direction of the antenna(Best location will be 90 from the main body but this may differ according to the environment.)
-Alarm tone will ring from the main body when locked or open
Lock. Open dial tone of product
-Lock button→single touch→'beep--'→main body locks up
-Open button→single touch→'beep, beep, beep'→open main body

Alarm to inform time to change the battery

When the LED starts flickerting every four seconds and there is a cricket sound from the main body, the battery must be changed to a new one immediately

Manual lever

Manual lever is designed to open easy when pressed with a hand. It is safe for use in emergency situations such as fire
Register and deleting remote control in main body

How to register

Open battery cover
Register button is located at the left center of the battery holder
Keep pressing the register button for 2 seconds using a with a thin device
LED will start flickering with a beeping tone
Press each remote control for a second until it make a beeping tone
Press the register button again for a second until they make a beeping tone
Registration completed. Check whether the main body is operating properly.

How to delete

Gather all remote controls that can be used when the remote control is lost
Register again with the above method
Registration for the lost remote control is deleted and thus safe to use
How to install and disassemble

Installation

Take off adhesive tape from latch
Leave adhesive tape to main body and closely adhere key to the door pillar
Detach adhesive tape from the main body
Firmly attach main body in designated location
After deconstructing the bond, remove assistance bushing
Firmly push adhered part to remove air in order to enhance adhesiveness between main body and the key

Confirming product installation

Test operation with a remote control whether it is accurately installed
Let alone for 24-hours in order to enhance adhesive power of the adhesive tape

How to disassemble

Separate bolt on each sides of the base plate from the main body by using a cross screwdriver
Cut off base adhering to the door slowly, pushing forward in a downward move, using fine but tough metal wire
(It uses same method for the latch)
Adhesive tape on the door can be taken off by blowing with a hair dryer.
PRODUCT PROMOTIONAL VIDEO REMOCK LOCKEY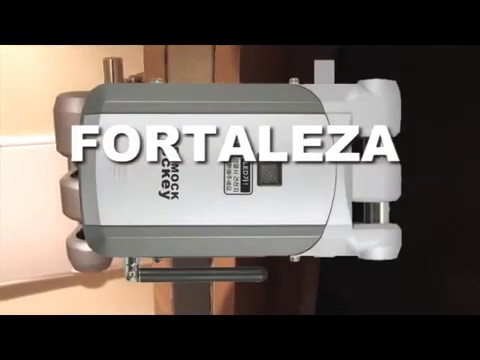 Technical features
Remock Lockey
Medidas
Dimensions and weight
Remock Lockey
Caraterisitcas tecnicas
Write a review
Your Name:
Your Review:
Note: HTML is not translated!
Rating:
Bad
Good
Enter the code in the box below:
contador visitas